The Facts About Backpack Injury
40 million teenagers carry a backpack to school each day. While carrying a backpack to school every morning may seem harmless enough, it can cause painful back and neck problems and injuries for students who don't pack or carry their backpacks properly. It can also lead to long-term health problems. In fact, more and more doctors are seeing children for back pain and injuries. Remember, the most important part of the body is the spine and nervous system. What controls your body (nervous system) also controls health.
* The Consumer Product Safety Commission estimates that 6,512 emergency room visits each year result from backpack related injuries.
* 60% of youths will experience at least one lower-back pain episode due to improper backpack use.
* 55% of students carry more than the recommended guidelines of 10 - 15% of their body weight.

Did you know?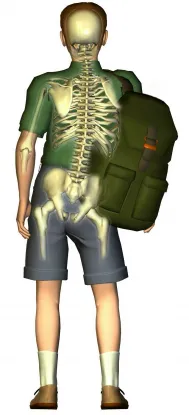 12 pounds in your child's backpack
X
10 lifts per day
=
120 pounds per day
X
180 schools day per year
=
21,600 pounds lifted in one school year!

THAT'S NEARLY 11 TONS OF WEIGHT...WHICH IS EQUAL TO 6 MID-SIZE VEHICLES!

Chiropractic professionals advise that individuals carry no more than 10-15% of their body weight on their backs. Example: A child weighing:

•50 lbs. should carry no more than 5-7.5 lbs.
•80 lbs. should carry no more than 8-12 lbs.
•100 lbs. should carry no more than 10-15 lbs.
•130 lbs. should carry no more than 13-19.5 lbs.
•150 lbs. should carry no more than 15-22.5 lbs.

Many children are carrying up to 40 lbs. and are hurting themselves.

Tips On Wearing Your Backpack Properly

• Distribute the weight evenly. Put the heavier items on the bottom to keep the weight off of your shoulders and maintain better posture.

• Wear both shoulder straps unless your pack is designed for use on one shoulder. Carrying a heavy backpack using one strap can shift the weight to one side, which can lead to neck and muscles spasms, low back pain and walking improperly

• Choose backpacks that have heavily padded shoulder straps and a lumbar support. Non-padded straps dig into the shoulders causing pain due to compressional loading of the acromio-clavicular joints and stress on the trapezious muscles.

• Choose a backpack that has a lumbar cushion. The lumbar cushion will redistribute weight to the lower extremities, creating a fulcrum that facilitates an upright standing position.

• Lift it correctly. Bend your knees when picking up a heavy backpack.

• Carry only what is needed. Every extra item adds weight!